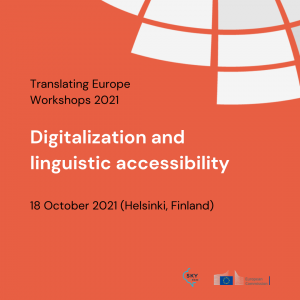 The Translating Europe Workshop titled 'Digitalization and linguistic accessibility' in Helsinki on 18 October, co-organized with Finnish Language Service Providers SKY, will look at the implications of the Web Accessibility Directive and linguistic accessibility in general through several stakeholder insights relevant to the language service industries. Common threads through all of them are digital solutions and business opportunities possibly opening up to language service providers. See the programme below.
Attendance is free of charge at (please fill in your name and e-mail; to be activated closer to the event): livekatsomo.fi/tew
9:30
Conference opening (EN)

Turkka Kulmala, Suomen kielipalveluyritykset SKY: SKY greetings

Moderator: Jari Herrgård (Delingua Oy)

9:35
Keynote: The Accessibility Directive, digital services and automated translation (EN)

Jörgen Gren, Director, Resources, DGT

10:45
Break
11:00
What do we mean by linguistic accessibility? (FI)

Henna Kara, Specialist, the Finnish Centre for Easy Language

11:45
Practical insight into linguistic accessibility (FI)

Sami Virtanen, Advisor on Accessibility and Digital Services (MBA), Finnish Federation of Hard of Hearing

12:15
Lunch break
13:30
Case data and ai (FI)

Niko Papula, The Fiskmö Project (Helsinki University project developing a free NMT service (FI-SV-FI) for Finnish public administrations and gathering language resources for that purpose (FI-SV-FI)

14:00
Break
14:20
Wrap-up discussion (FI)

Participant panel with Niko Papula, Sami Virtanen and Turkka Kulmala: Conclusions
Questions can sent in via chat or Teams (link will be available on the platform).
The TEW working languages are English and Finnish.